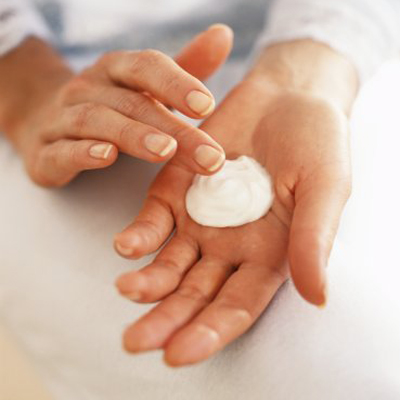 Dehydrated skin is the first to show fine lines and wrinkles, so look for moisture creams labeled with "ultimate," "deep," or "repair" in their title. Creams labeled this way tend to be thicker, with a strong focus on rehydrating the skin and repairing damage caused by sun, environment, or age. Thicker moisture creams also fortify your skin, smoothing out fine lines and making your skin look youthful and refreshed. Apply a thin layer to your skin in the morning and a slighty thicker layer of cream at night before bed, enabling your lotion to really penetrate and repair your skin while you sleep.

Many spas also offer skin treatments that deeply hydrate your skin, keeping it looking luminous and well cared for. Burke Williams is one major spa chain that offers the anti-aging facial to their customers. This facial blends peptides, stem cells, and moisturizers into a customized treatment that diminishes the signs of aging and repairs dry, damaged skin, revealing a complexion that looks younger, smoother, and softer. Check your local spas for similar treatments, and if one isn't offered, ask for suggestions about comparable options. Environmental factors also play a key role in keeping your skin healthy and hydrated.
In addition to rich moisture creams, make sure to abstain from pollutants, such as smoking and excessive heat, which cause delicate facial skin to become dry, wrinkled, and inflamed. Make sure you're also drinking enough water; drink at least eight cups of water a day and eat plenty of water-rich fruits and vegetables to keep your skin looking healthy and hydrated.
Jodi
MyWedDeal, where you can save more than 50% on all your wedding services! Wedding Deals and discounts, specifically for our Wedding Community.